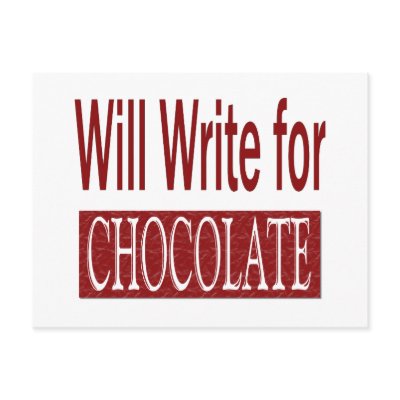 It's 1.27 am and the house is quiet. Even my hyper Irish hound is out cold. The cats are snoring ever so softly. No Harleys are thundering past my window, making the glass rattle in its frame. All is at peace. Except my stomach. My stomach craves CHOCOLATE.
Why does it always do that when I haven't got any?!! Why does the craving always hit hardest when I'm up late trying to thrash out a few more NaNoWriMo words?
Gingerly, I investigate the contents of the fridge, looking for something, anything, to assuage the craving. But all I find is mouldy cheese, tired bacon leftovers (I was going to use them in a casserole that never happened) and a shriveled lemon, half wrapped in cling film that's seen better days. This is not good.
Peanut butter on toast, I decide, my heart lifting. I can do that. But I managed to get suckered into buying the 'all-natural, organic, old-fashioned grandma's recipe' version, and the two-inch layer of oil on the top makes my stomach lurch. "You have to stir it," said the lady in the shop when I bought it. "Right," I answered, not wanting to look the stupid Brit. "I knew that."
But actually, all I know (at what is now 1.33 am) is that I should have gone for the biggest bag of Peanut M & M's I could find instead. Or a Milky Way Midnight. Then I would have been able to write. Because clearly I can't write without chocolate. So the fact that I haven't reached my 3K goal for the day doesn't matter, right? I'm excused. Yes, that's right. So I might as well go to bed. "After all… tomorrow is another day."
Lia Keyes,
Master Procrastinator and admitted chocoholic
www.liakeyes.com
Editor's note:
Do you know where the quote Lia used comes from? The first person to leave a comment with the right answer wins a prize!